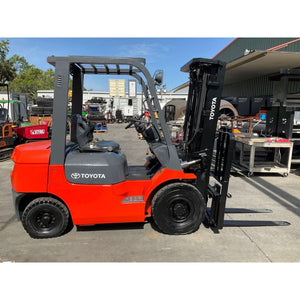 Toyota
REFURB 2003 Toyota 7FGU25 LPG 5000 lb. Forklift w/ Sideshift & Solid Pneumatic Tires 189"H
Regular price
$19,995.00
$0.00
Toyota 
Model #: 7FGU25
Serial #: 68735
RO: 68
Description:
REFURBISHED 5000 lb. LPG Forklift w/ Sideshift & Triple Mast
 Specs:
Year: 2003
Capacity: 5000 LBS
Fuel Type: LPG (Propane)
Mast Type: 3-Stage, Triplex
Max Height: 189" ( 15.75ft)
Forks: 42" (Not Pictured But Included)
Side Shift: Yes
Tires: Solid Pneumatic

Condition: Certified Pre-Owned
Warranty: 30 Day Parts & Labor
List of Preventative Service:
Preventative Maintenance (Fluids/Filters/Grease Chassis), Tune-Up (Spark Plugs, Cap, Rotor, Wires), 120-Point Inspection, NEW Motor, Water Pump, Thermostat, Upper/Lower Radiator Hoses, New Radiator, Transmission Cooling Lines, Rebuilt LPG Regulator & Mixer, Differential Fluid Flush/Fill, Complete Brake Job (Master Cylinder, Wheel Cylinders, Brake Shoes, eBrake Cables, Seals & Hardware), ALL Cylinders Rebuilt (Lift/Tilt/Steering/Sideshift), NEW Front Tires, Inspect All Safety Equipment (Lights, Seat Belts, Horn, Back-Up Alarm), Inspect Starting/Charging System, New Front Tires, Inspect/Adjust Brakes, Inspect/Repair Any Oil Leaks, Inspect All Linkages & Adjust if Necessary, Pressure Wash & Paint Job w/ New Decals, Seat & Weather-Stripping.
NOTE: Picture is a stock photo, Actual forklift pictures will be uploaded once it is out of paint. 
---
More from this collection