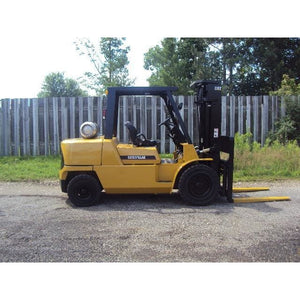 Caterpillar
2003 Caterpillar GP50K LPG 11,000lb Forklift w/ Sideshift Fork Positioner 159"H
Regular price
$13,999.99
$0.00
Finance as Low as...
$301 / mo
Click to Apply Now!
Caterpillar
11,000LBS LPG Forklift w/ Sideshift & Fork Positioner
Model #: GP50K
SKU: 18060047
Description:
CAT 11,000lb. LPG Forklift Propane w/ Sideshift & Fork Positioner!
Specs:
Year: 2003
Capacity: 11,000 LBS
Fuel Type: LPG (Propane)
Mast Type: 2-Stage (Class IV)
Max Height: 159" (13.25ft)
Fork Size: 72"
Side Shift: Yes
Fork Positioner: Yes
Tires: Solid Pneumatic
List of Repairs: Preventative Maintenance (Filters/Fluids/Grease Chassis), Hood Struts, Ignition Switch, Water Pump & Thermostat, Upper/Lower Radiator Hoses, Light Switch, Brakes Inspected & Adjusted, U-Joints for Driveshaft, New Carburetor, Sideshift Cylinder Resealed, Paint Job w/ Seat, Shift Boots & Decals
   Picture in listing is a stock use photo, the lift for sale is in the refurbishing process right now. But will be sold in the same condition as advertised in the picture.
---
More from this collection