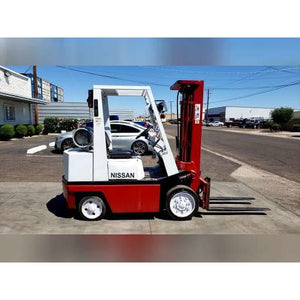 Nissan
Nissan CPF02A20V 4000 lb. LPG Forklift 130"H Cushion Tires
Regular price
$7,995.00
$0.00
Nissan
Serial #: CPJ02-020260
SKU: 
Description:
Nissan 4000 lb. LPG Forklift w/ Cushion Tires
Specs:
Capacity: 4000LBS

Fuel Type: LPG (Propane)
Mast Type: 2-Stage (Truck Mast) 
Max Height: 130" (10.83 ft.)
Hours: 6572

Tires: Cushion
Warranty: 30-Day (Parts & Labor)
List of Preventative Service:
Preventative Maintenance (Fluids/Filters/Grease Chassis), Tune-Up (Spark Plugs, Cap, Rotor, Wires), 120-Point Inspection, Inspect All Safety Equipment (Lights, Seat Belts, Horn, Back-Up Alarm), Inspect Starting/Charging System, Inspect/Adjust Brakes, Inspect/Repair Any Oil Leaks, Inspect All Linkages & Adjust if Necessary, Pressure Wash & Paint Job w/ New Decals, Seat & Weather-Stripping.
Picture is for reference only. The actual lift for sale is currently being inspected. Updated pictures will be uploaded soon.
---
More from this collection