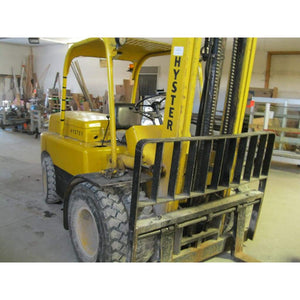 Hyster
Hyster H80C 8000LB Gasoline Dual Wheel Forklift 72" Forks 185" Max Ht
Regular price
$11,995.00
$0.00
Hyster
8000 LB Gasoline Dual Wheel Forklift with Fork Positioner
Model #: H80C
SKU: 18050016
Description:
Hyster dual wheel forklift w/ fork positioner capable of up to 8000LBS. NEW REBUILT MOTOR. Dual wheel pneumatic tires allow this forklift to work in any terrain. 
Specs:
Capacity: 8000 LBS
Fuel Type: Gasoline
Mast Type: 2-Stage
Minimum Clearance: 105"
Max Height: 185" (Approximate height)
Fork Size: 72"
Hours: 0 on Motor
Side Shift: no, has fork positioner
Tires: Dual Wheel Pneumatic 
Condition: Refurbished
Warranty: 30 Day, Parts & Labor/60 Day Parts.
List of Repairs: Remanufactured Motor w/ New Starter & Alternator, Tune-Up (Spark Plugs, Wires, Cap & Rotor), Brakes Inspected & Adjusted, Paint Job w/ New Seat, Decals, Weatherstripping.
The Picture in the listing is a stock photo. Unit is currently in the refurbishing process. If you wish to view pictures of the lift as it sits, please contact us. Otherwise we will update pictures once the lift is completely finished.
---
More from this collection